"Heki"______. It is a meal space of relaxation.
The visiting people are attracted to the subtropical color and taste, to the big-hearted Okinawa that you can eat at will here.
Particularity of "ingredients".

The impression begins with the best beef.
The steak at Heki is the highest grade Australian and Japanese beef reared in Okinawa. With a strict particularity our beef is selected, and our expert female chefs take time to prepare a product that has little fat or sinew.

Healthy Olive Oil produced in Spain
We use virgin olive oil made from the best olives carefully picked one by one by hand, and using a scientific process are cold pressed without cutting. The high purity of this superb item is also used in cosmetic and pharmaceutical products, not to mention the taste.

Salt and water made with deep-ocean water
The unknown resource of "deep-ocean water" suddenly attracts attention these days. Salt and water are made from this mineral-rich deep waters. It is used for all seasonings, soups and rice.

Nigata produced steamed Koshihikari rice
Time and effort is spent on the rice, and it becomes delicious. 100% Nigata produced Koshihikari rice is freshly steamed on a "continual cooking system" after customers come to the store. It is our pleasure for another helping to be free.
Plentiful seasonal vegetables
Salads are served in one dish filled with colourful seasonal vegetables of a satisfying volume. There is a choice from two kinds of dressing, Italian style and Japanese style. All are delicious and so extremely popular.

5 kinds of sauce
There are several kinds of homemade steak sauce made from vegetables, fruits, first bonito, sweet sake, soy sauce, boiled down together for several hours. Two kinds of "ponzu sauce" are provided with our course dishes. By your preference * red pepper soy sauce * wasabi soy sauce * garlic soy sauce.
Particularity of "dishware"

Local dishware, Ryukyu glass is used.
The colorful Ryukyu glassware reminds you of the beautiful simplicity of Okinawan ceramics-ware and the colour of nature of the country are used in our stores.

Seiichi Kuba (ceramist, south porcelain kiln sponsorship)
Be profoundly involved with ceramic art, from the world of music to the road of ceramic art. Easy to use, beautiful and fun. The evaluation of these ceramics is with a particularly high taste.
"The female staff"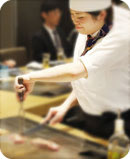 Please thoroughly enjoy our female staff which are overflowing with activeness, warm consideration, and polite cooking hospitality.
Teppanyaki is an interactive style of grilling foods on an iron plate by hand and in front of customers.
Service required for satisfying customers involves... cooking delicious food, pleasant talking, gaiety, and warmness. A woman is good to realize these. Thus, a daring all female shop chain was opened.